Do you Want Prospective Customers to Find Your Products Online?
Unlike popular belief, where most people will try and get their e-commerce homepage as optimized as possible, the best way to get your e-commerce website found on the search engines is by finding targeted keywords for each and every single one of your product pages. YES! It is all about keywords and I can't stress this more in my websites. Do your keyword research, use Jaaxy, the tool I use!
Nobody will look for a whole store or the entire landing page for your store, right?
That's right!
You're not trying to get customers to find your homepage that contains every single one of your products. Because online, people are searching for specific products, which means that they would be using very targeted keywords. So do your diligent work on entering your keywords for each and every single one of your products IF you want to be found.
Entering Keywords for Every Product is KING
Put in more effort to optimize the individual product pages, and you will see much better results. However, not every e-commerce store creator allows you to do that.
But GrooveKart™ does, and it's free. It is part of the Groove.cm suite of applications.
GrooveKart™ is part of GrooveFunnels™ All-in-One Marketing Platform
550,000+ People Use Groove To Sell Their Products Online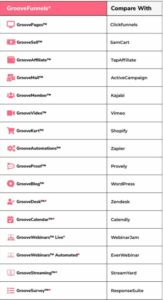 Free Full Featured Platform
Free Hosting
Free Custom Domains
Free Gorgeous Templates
Free Drag-N-Drop Page Builder
Takes PayPal, Stripe, or GroovePay
Not only do you get to sell your products for free with GrooveKart™, but you also get access to these other powerful apps.
That's 20 apps, for free! Why? Because your success means everything to us at Groove. And we don't want it blocked, or delayed, by the cost to start a business. You can read more about Groove on this Blog here.
Build your own SEO-friendly e-commerce website now with Groove, and I will see you on the inside.
Here Are the Best SEO Strategies for Your E-Commerce Website